Barack Obama Snacks on Hawaiian Spam Sushi
President-elect Barack Obama is spending the Christmas holiday Hawaii – relaxing in the sun, playing golf and eating Spam.


On Sunday afternoon, while playing golf with friends at Oahu's Olomana Golf Links, Obama, 47, who grew up on the island, stopped at a snack bar and bought two hot dogs, soft drinks and two orders of a local luncheon specialty called spam musubi – Spam
and a fried egg
on a bed of rice, held together with a strip of dried seaweed, according to reporters covering his trip.



The snack bar clerk later told the
New York Time
s' Jeff Zeleny the president-elect's tab came to $17.75.
Asked how his game was going, Obama answered with a smile, "I'm not that good." He also invited reporters to order a beer and put it on his tab, but none took him up on the offer.
--------------------------------------------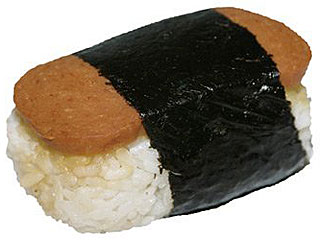 I agree that the sad state of journalism reflected by
this article
is an issue of concern, especially since it appears even the New York Times is interviewing the snack bar clerk. But even more importantly... can anyone here confirm that the Olomana Golf Course snack bar actually incorporates a fried egg into their spam musubi? Cuz that sounds ridiculous-- or maybe ridiculously good.